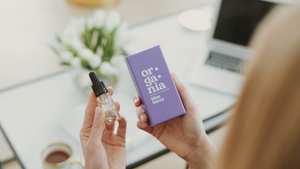 Our money-back guarantee
We believe that everyone should have access to the benefits of CBD, and we stand behind our products 100%.
If you're new to CBD or unsure whether it works for you, you can shop with confidence knowing that we offer a 30-day satisfaction guarantee.
Satisfaction Guarantee
With our satisfaction guarantee you can return your CBD oil within 30 days and we will be happy to give you the opportunity to exchange the product for another one or get the full amount you paid back. The guarantee applies to new customers.
How it works:
If the product doesn't meet your expectations, you can return it within 30 days for a full refund or an exchange.
To be eligible for the satisfaction guarantee, you must use the product regularly and correctly for at least 2 weeks, follow the instructions, and have realistic expectations.
To start the process, download and fill out the satisfaction guarantee form and email it to us at info@organia.eu.
We'll review your form within 5 business days and send you a return label if you're eligible.
Once we receive the product back, we'll issue your refund.
Important note: Please do not return the product until we've reviewed your form.
We reserve the right to refuse a refund if we feel our policies are being abused.
If you have any questions about our satisfaction guarantee or need assistance, please feel free to contact us through our contact form or at info@organia.eu.
Thanks for choosing Organia!