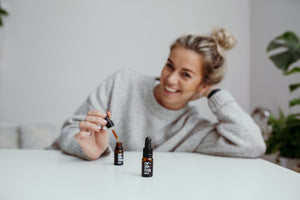 What is CBD? How it works, what it's for and how it can help
Here you'll find answers to all your questions
See what are the benefits of using CBD oils
What is CBD?
It's short for cannabidiol, which, like the name suggests, is found in the cannabis (hemp) plant. CBD just happens to share a common source with another confusingly named compound: THC.
CBD, which is not psychoactive, is sort of like THC's distant, more mellow cousin. And even though they come from the same place, they have a very different life and career goals.
CBD helps the functioning of the endocannabinoid system, which regulates things like your mood, sleep cycle, inflammation, and immune response. One of the easiest and most popular ways to use CBD is in oil form, which is made by extracting CBD from the plant.
What does CBD oil do?
To put it simply: CBD may help you with pain and other health concerns without the mind-altering effects. It's also not addictive.
Recent studies suggest that CBD can provide relief for health issues like chronic pain, anxiety, depression, and acne. CBD is used in the treatment of epilepsy and may be effective in treating drug addiction. There is also evidence that CBD may help with falling and staying asleep.
Is CBD oil addictive?
No, CBD is not an addictive substance. Research indicates that CBD is rarely addictive and almost impossible to overdose on. The average CBD enthusiast consumes less than 50 mg per day and a person would have to consume 375 servings (or 18,750mg) within a very short time to cause potentially fatal effects. For this reason, a CBD overdose has never been documented.
It's important to note that any product taken regularly/daily for long periods could become habit-forming. But that's all.
How long does Organia CBD take to work?
CBD affects everyone so differently. Often, people feel effects within 20 minutes and others say this can take up to 1 hour. In many cases, you might need to take CBD as part of your daily routine over a few weeks to keep your mind and body humming along.
How long will the effects of CBD oil last?
The effects of CBD usually last around 4 – 6 hours from a single dose but of course it depends on a person and the dosage as well.
Can I drive if I take CBD?
Yes, you can drive if you take Organia CBD oil. In very large doses CBD may make you feel drowsy and tired. If this is how you feel at any point, just pull over safely and rest until you feel able to drive.
Can Organia CBD oil be taken with other medications?
We recommend consulting your doctor before using CBD with prescribed medications. Just to be safe and sound.
Who can use CBD oil?
CBD is used to support recovery and for preventative care. Studies show that it can support those who suffer from anxiety, stress, auto-immune-related diseases, epilepsy, seizures, sleep disorders, recovery, inflammation, pain, and skin disorders.

Organia CBD is not to be purchased by persons under the age of 18. You should not take CBD if you are pregnant or breastfeeding. If you are taking medication or have a medical condition, consult a doctor before use.
Can I give Organia CBD oil to my dog/cat?
Although there's tons of research suggesting that CBD oil is safe for most cats & dogs, we are focusing more on humans. So, we recommend you to consult your veterinarian before you give your furry friend any CBD. Maybe some CBD that's specially made for pets? Surely your vet can advise you and share more information on this topic.ucts and services. You can use text, links and images and also group articles into categories.
Can I bring CBD to my travels?
Although CBD is legal in many countries around the world, we recommend you to check with the country/state you are traveling to for their up-to-date positions and local laws.
How to storage CBD oil?
CBD should be kept in a cool, dark place out of direct sunlight. 
The color of CBD may change over time depending on exposure to air and light. Don't worry, this is completely normal and will not affect the quality.
Is CBD legal in Europe?
Long story short(er) - CBD products are legal in EU as long as they are containing less than 0,2% of THC, meeting the standards and just following overall rules & regulations.We don't just say that our products are awesome - we prove it with a third-party testing! Following strict guidelines and always meeting the legal requirements. We just want to be as honest with you as possible. Legislation in each country may differ from the EU level. So you should always check locally first.
Is Organia CBD oil third-party lab tested?
Yes! We use third-party lab testing for every batch of CBD oil for purity and safety. We believe transparency and trust are the key elements to a real friendship. So, our test results can be found on our website under each product.
How does Organia CBD oil make you feel?
There is no one specific feeling you should experience when using CBD oil because we are all so different. But many CBD users say they feel a sense of calmness and positivity which is why it's used to help reduce stress. The way it makes you feel depends on many different things such as the type of CBD you're taking, dosage, timing, and the way your body reacts to it. 
Will CBD get me "high"?
That's a NO. Organia CBD contains less than 0.2% THC (extremely trace amounts). It has no psychoactive effect and will not get you high.
Will Organia CBD show up on drug tests?
While our products contain trace amounts (less than 0.2%) of THC, there are different ways that companies test for drugs and we cannot make any claims or guarantees that it will not appear as a false positive. Just talk to your doctor and/or employer if this is something you worry about.
For whom Organia oils are meant?
For everybody. Moms, dads, grandparents, students, business(wo)men, fitness lovers, vegans, meditation gurus, musicians. Everybody. Whether you need daily support or one-time relief, we got you!We are here to help you understand and find your own way and relationship with this natural awesomeness we call CBD. *We are strongly obeying laws, so Organia CBD is not to be purchased by persons under the age of 18.